CCEMTP – Critical Care Emergency Medical Transport Program
The Center for Emergency Medicine is the only facility licensed in southwestern Pennsylvania to offer CCEMTP!
2016 Course Offering:
November 6-21, 2016
(REGISTRATION CLOSED)
2017 Course Offering:
November 5-20, 2017
(click link to register)
The CC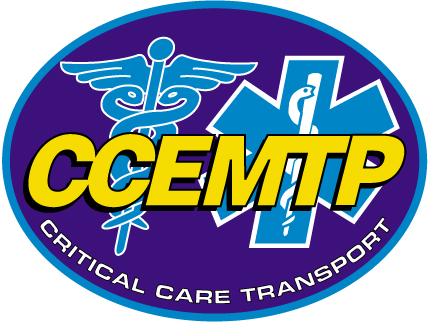 EMT-P course is designed to prepare paramedics and nurses to function as members of a critical care transport team. The program attempts to bridge the gap between pre-hospital and in hospital care; resulting in a specialized provider who has both the understanding of the aspects of caring for a critically ill patient and has the ability to provide the highest level of care to the critically ill patient during transport.
The class meets for two (2) weeks everyday from 8am to 6pm. Most classes take place at the Center for Emergency Medicine Office of Education in the Oakland section of Pittsburgh, PA.
Preregistration is mandatory for this program and a course deposit of $400 is required. Once registered, students will receive more specific class information such as a course schedule and information about overnight accommodations in the Pittsburgh area.
Curriculum Design
The CCEMTP Program is designed to provide the basic educational foundation required for specialists transporting critical care patients. The CCEMTP Manual is a curriculum divided into broad modules. Each module has a specific instructional goal, a rationale (establishing a connection with the desired benefits of the program), a list of necessary equipment to demonstrate various critical care techniques, the required readings and the learning objectives. Each lesson contains a focus statement (providing a specific direction about the topic and how it will contribute to the development of the participants), a list of learning objectives, demonstration equipment, additional readings, handouts, and a lesson outline.
Location: Most classes will be held at the Center for Emergency Medicine, 230 McKee Place, Suite 500, Pittsburgh, PA 15213.
Typical Course Agenda:
Preparatory
Concepts and Components of Critical Care
Air Medical Considerations
Transport Physiology
Lab Data
Basic Radiographic Interpretation
Peripheral and Central Lines
Hemodynamic Monitoring
Blood Administration
Medical
Respiratory
Advanced Airway
Mechanical Ventilation
Pharmacology – Neuro System
Cardiology
12-lead EKG Interpretation
Mechanical Cardiac
Pharmacology -Circulatory
Sepsis / MODS
Gastrointestinal
Renal Urological
Neuro / ICP
Endrocrinology
Hematology
Trauma
Burn Care
Trauma Care
Special Populations
Pediatrics Part 1
Pediatrics Part 2
High Risk Obstetrics
Fetal Heart Monitoring
Recommended CCEMTP Text:
Critical Care Transport, AAOS. Jones and Bartlett, Sudbury, MA, c2011.
OR
Critical Care Nursing: A Holistic Approach, Patricia Gonce Morton, eds., 9th ed., Philadelphia: Lippincott, c2008.
Any critical care text can be used to prepare the student for the course.

Recommended Prerequisites:
Paramedics: One (1) year as a paramedic, current certifications in CPR, ACLS, ITLS or PHTLS, and PALS or PEPP.
Nurses: One (1) year as a nurse, current certifications in CPR, ACLS, PALS, and ITLS/PHTLS or TNCC.
Registration:
Pre-registration is mandatory and can be completed by selecting the date of the course. Enrollment for each course is limited; classes are filled in the order in which applications are received. The deadline for registration is one month before the start of class.
For your convenience, a list of overnight accommodations and other Pittsburgh information will be sent with your course materials shortly after the registration deadline.
Tuition and Payment:
The cost of this course is $1050.00
*Pricing subject to change.
Refunds:

Requests for refunds must be made in writing or email at least 14 working days prior to the course. A $150.00 cancellation fee applies. No refunds are issued for cancellations made later than 14 days prior to the course or for failure to attend the course. In the event of course cancellation, participants will be notified as soon as possible and a full refund will be issued.
Student resource disks will be mailed 60 days prior to course start to your physical address on file with us. Contact us if this is not a good address to receive your disks.  These disks contain the notes, objectives, policies, and handouts you will use during the course. The UMBC Student Resource Disk cost  is $150.00 each and in the case you cancel your registration no refund can be issued until the disk is returned and unopened.
For additional information, please contact:
John Pierce – piercejf@upmc.edu or (412)647-4648
The Critical Care Emergency Medical Transport Paramedic (CCEMTP) program is owned by the University of Maryland Baltimore County (UMBC). The CCEMTP program is offered by the Center for Emergency Medicine under license.
For renewal information go to http://ehspace.umbc.edu/ccemtp/Renewal.php

The Center for Emergency Medicine, as an educational institution and as an employer, values equality of opportunity, human dignity, and racial/ethnic and cultural diversity. Accordingly, the Center prohibits and will not engage in discrimination or harassment on the basis of race, color, religion, national origin, ancestry, sex, age, marital status, familial status, sexual orientation, disability, or status as a disabled veteran or a veteran of the Vietnam era. This policy applies to admissions, employment, access to and treatment by Center programs and activities. This is a commitment made by the Center and is in accordance with federal, state, and or local laws and regulations.